Today's post comes from Maya Lopez, Vassar Class of 2026 and Art Center Student Guide.
The celebrated French artist Pierre Soulages passed away on October 26, 2022, at the age of 102. He is famed for his large abstract works painted primarily with black paint.  His brushstrokes are bold and unwavering across the canvas, forcing the audience to confront them as the focus of his pieces. Looking at abstract artworks, it can be easy to dismiss them with the logic of, "Well, I could do that." In fact, I have been guilty of this line of thought before. But it is the process and ideas behind an abstract piece that make it meaningful and worth discussing. 
The guiding idea behind Soulages' work was the play between the color black and how it interacts with outside sources of light. Black can be considered as the absence of light. It is often compared to a void, an undefined gap in space. Soulages hoped to give the void dimension through his pieces. In brightly lit museum galleries, the lights reflect upon the black of the paintings. Where there was once no vibrant color, this reflection gives the black paint a renewed vitality, a brightness that appears out of the darkness. Additionally, in different spaces, different types of light create different experiences in which to view the paintings. LED lights shining on a piece would look different than natural sunlight coming in from a skylight, for example. Depending on the environment one of Soulages' paintings is placed in, the audience could have different visual perceptions and see different depths to the shapes on the canvas.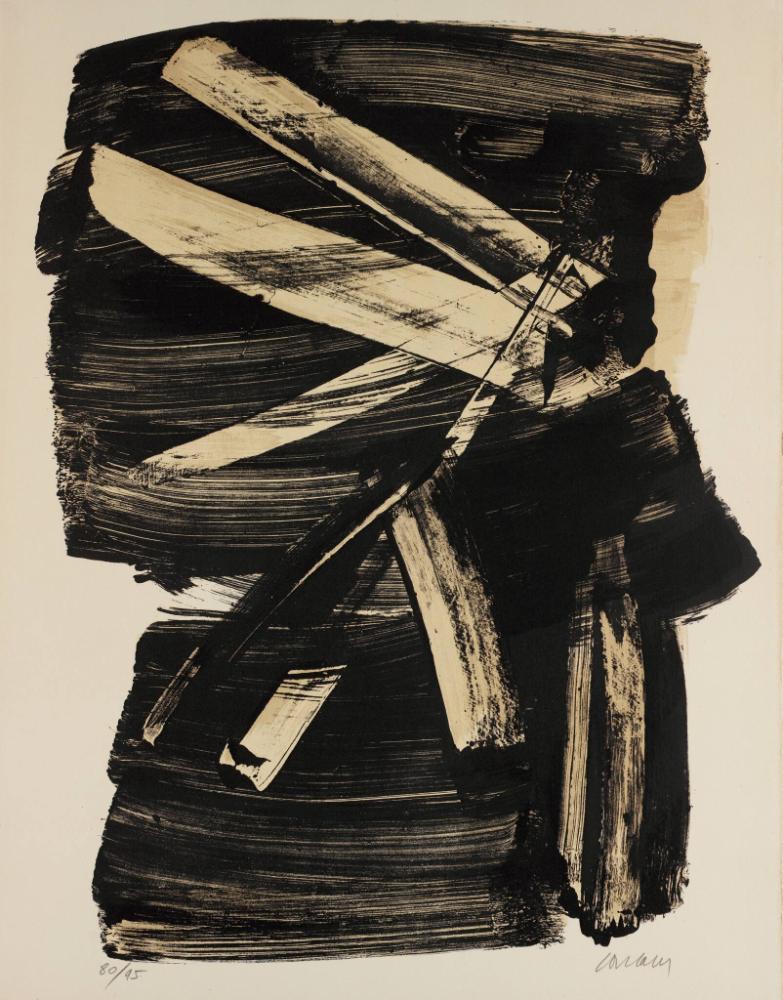 Soulages also experimented with the methods in which he applied the paint. Aside from paintbrushes, he used objects such as spoons, pieces of rubber, and tiny rakes to manipulate the pigment. Firstly, this created different thicknesses across a piece, making valleys and crevices between swaths of paint. Secondly, this added extra elements of texture through the scraping or rubbing of the paint on the canvas. Light interacts differently with these added elements and can reflect in different ways. A very thick glob of paint can cast a shadow on a section of the piece. Scraping lines into the paint can let parts of the white canvas peek through. This adds further dimension to the seemingly empty space of the black, almost giving each work its own personality in the relationship it develops with the lighting of the room. 
The Loeb's collection holds three of Soulages' works – two lithographs and one painting – which appear throughout this post. Unfortunately, none of them are currently on view at the time of this being written, but through these pictures we can get an idea of the effects Soulages hoped to convey with his work. In Untitled (Abstract Composition), pictured above, there is evidence of manipulating or scraping through the ink, which I discussed earlier. This creates an almost messy mix of black lines and paper coming through. By contrast, in the piece Untitled (Abstract Composition), pictured below, the canvas is almost completely obscured by the large strokes of paint. We can imagine that in a gallery space, these two works would interact very differently with the surrounding lights.
While at first glance, these works may seem simple, there is much more to discover when we consider how they can interact with different environments. Abstract artworks may take a little more digging to uncover their intention and purpose. Pierre Soulages' work is an example of paintings that benefit when they are put into context. I expect his art to continue to be thought-provoking and revered by many even after his death.