Today's post comes from Natalia Fay, Vassar class of 2024 and Loeb Student Guide.
Vassar College's art collection has grown steadily since its inception in 1864 due to the generosity of the Loeb's patrons and the College's alumnae/i. Most recently, the Loeb was able to obtain four magnificent twentieth-century paintings, bequests from the estate of the late Mary Pick Hines '53. These four artworks, two of which are by Georgia O'Keeffe, one by Marc Chagall, and the last by Henri Matisse, help "build on existing strengths" of the Loeb's modern and contemporary galleries, while also helping to establish Vassar as "one of the largest academic repositories of O'Keeffe's paintings," according to Loeb Director T. Barton Thurber. Resting solidly on a newly-painted navy blue wall within the Loeb's galleries, the four works call attention to themselves in distinct yet unified ways, and act as invaluable examples of the art of the early twentieth century.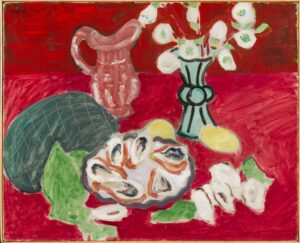 Henri Matisse's work, Vase with Flowers and a Plate of Oysters (1940) jumps from the blue gallery wall with a contrasting dark red background and subsequent arrangement of colored masses forming the titular objects, along with a water pitcher. Close-up views of this artwork reveal the variety of Matisse's painting techniques, from removing paint from the surface of the canvas to finger-painting.
Georgia O'Keeffe's first work, Blue Morning Glories, New Mexico, II (1935) comes in as the smallest of the four acquisitions but draws in the onlooker's attention through two zoomed-in views of morning glory flowers, decorated only with a meditative blending of shades of blue. O'Keeffe's second work, Cottonwood No. 1 (1944) declares the majesty of the cottonwood tree from the artist's home in the American Southwest. She would eventually go on to paint this type of tree at least ten times.
The fourth acquisition, Marc Chagall's Flowers and Profiles (1930) feature two figures whose facial composition was common in the artist's paintings. The two individuals, dwarfed by a massive vase of flowers, appear unaware of the small flying nude in the top left-hand corner in a blaze of orange.
These four new artworks demonstrate not only the versatility of a contemporary art gallery, but also the variety in modern art styles from the period of 1930-1944. Each of these artists brings an invaluable, unique perspective to the world of art, and helps strengthen the Loeb's collection and teaching abilities by providing a more comprehensive outlook on the possibilities and history of art.