Today's blog post comes from Olivia Feltus, Art Center student docent and Vassar class of '21.

As a Japanese and Art History double major, I am always looking out for connections between my fields of study. Also, as someone with a background in studio art, I am always looking for inspiration for my own work. Fortunately, Japan has an extremely rich and well-studied artistic tradition, dating back millennia, that anyone can look back on. And fortunately, the Loeb has a fine collection of one of the most well known mediums of Japanese art: the ukiyo-e woodblock print. Often mass-produced in vivid color during the mid-19th century, these images are both aesthetically pleasing and historically significant. They often depict Japanese folklore in settings from which contemporary Meiji-era viewers could ascertain significance, whether cultural, religious, political, or historical.

One of my absolute favorites of all time is Hiroshige Utagawa's Foxfires: New Year's Eve at Oji (from 100 Views of Edo), 1857. The scene depicts a crowd of foxes holding up foxfires on New Year's Eve at Oji Inari Shrine in Tokyo. According to tradition, the more foxfires that were seen by farmers that night, the better the rice harvest would be. Inari, the deity this shrine is dedicated to, is the god of both foxes and rice, among other things. Many Shinto shrines throughout Japan, both large and small, are dedicated to this figure, and often the presence of statues of foxes holding scrolls in their mouth is a factor in determining whether a shrine is an Inari shrine or not.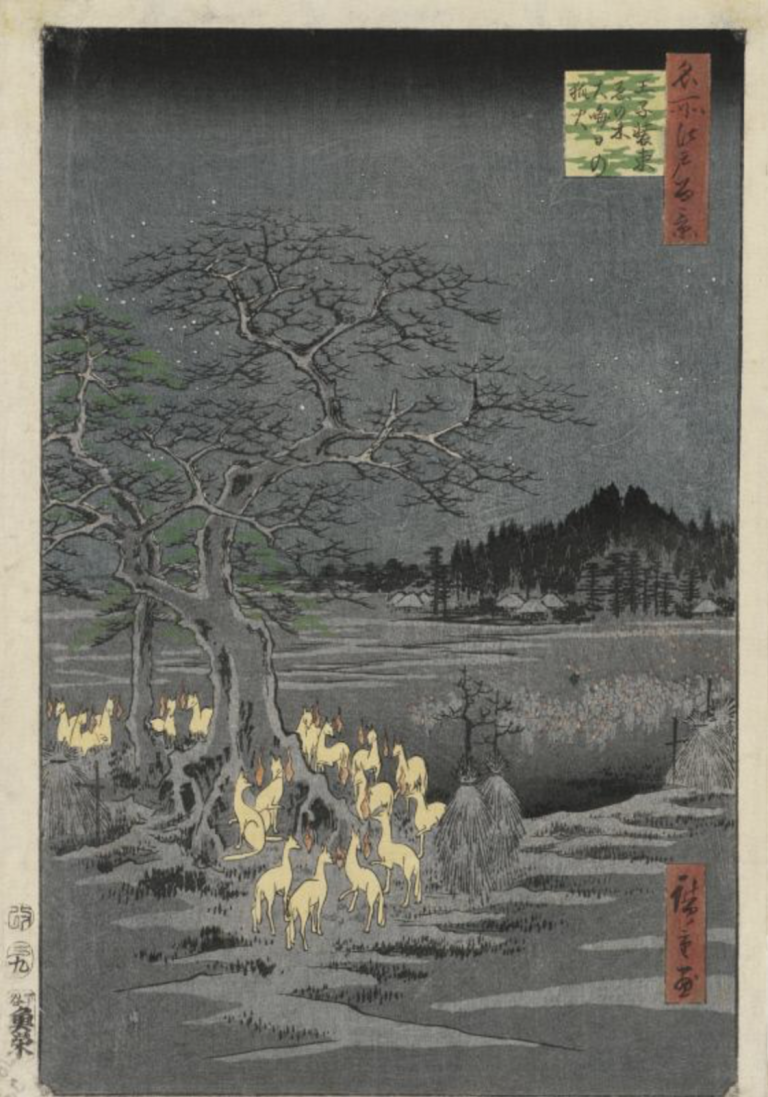 Because I love this print so much, I decided to recreate one of the foxes during a class in champlevé enamel, which I took at the beginning of the year during a work-study program at the John C. Campbell Folk School in North Carolina. (Champlevé is a process in which enamel is placed in small recessed areas of metal; see the Loeb's Eucharistic Dove, 2017.4, for an example.) Once my main project for the class was done, I sketched out my favorite fox from the Hiroshige print (can you tell which one it is when you look at the print?), traced the image on a piece of scrap paper, took a piece of copper, contact-cemented my design down, and began to saw. Once I was done sawing, I sanded the edges down a bit to make them smoother.
I then used a sifting technique to apply orange enamel to the fox after counterenameling the back. The fox has a super-slim neck, arm, and tail, so I had to be careful I didn't crack it! I put it in the kiln and decided to take it out before the enamel had completely melted, while still at the sugar fire stage. It has a sandy texture.